HOW TO CHOOSE ENCLOSURE FOR LASER ENGRAVER
Mar 21,2023 | Sylvie
If you own or plan to purchase laser engraving equipment, you must consider the following: Is it necessary to purchase an enclosure? Do you believe you can make it yourself? If you want to buy an enclosure, what type should you get? If you have the same question as I do, just keep reading.
If I were to build a laser engraver enclosure on my own, I would first consider the following issues:
What is the approximate cost of constructing an enclosure?
What is the internal structure of the enclosure?
How is the enclosure constructed?
Based on my budget, what type of enclosure should I design?
With these questions in mind, I browsed the video website for well-known DIY enclosures for laser engravers. I discovered that the primary material used in these enclosures is wood and that these video bloggers also spent a significant amount of time measuring the size, sketching design ideas, cutting wood, and so on. It is also inconvenient because the enclosures they constructed cannot be foldable and carried.

For me, the most important thing is my health and safety, followed by the security of my property and, finally, time. I hope the enclosure is flame retardant; otherwise, in the event of an accident, my property and even my life will be threatened. Second, I don't want to spend too much time and effort creating the enclosure. Based on this, I believe it is preferable to purchase one. however, what type of enclosure should I purchase?
I want my enclosure to meet the following requirements:
It must have a strong flame retardant function to ensure my property and life's safety.
To keep the indoor air clean, the enclosure's interior should have an air inlet and outlet design.
There must be a visible window, and the position of the visible window must be convenient for me to observe the engraving and cutting.
The volume must be large enough, because I may buy a larger laser engraving machine in the future, and I do not want to waste money on purchasing a large enclosure.
With my request, I looked through the enclosures for laser engravers and discovered that the ATEZR AS FOLDABLE ENCLOSURE moved me even more. It performs the same basic functions as the majority of enclosure currently on the market, but it also differs from other brands in ways that I value.
BASIC FUNCTIONS:
FOLDABLE&PORTABLE
Foldable & 1-minute set up.
Storage design greatly improves space utilization.
Collapsible and easy to store, it can be taken to school, studio, and more.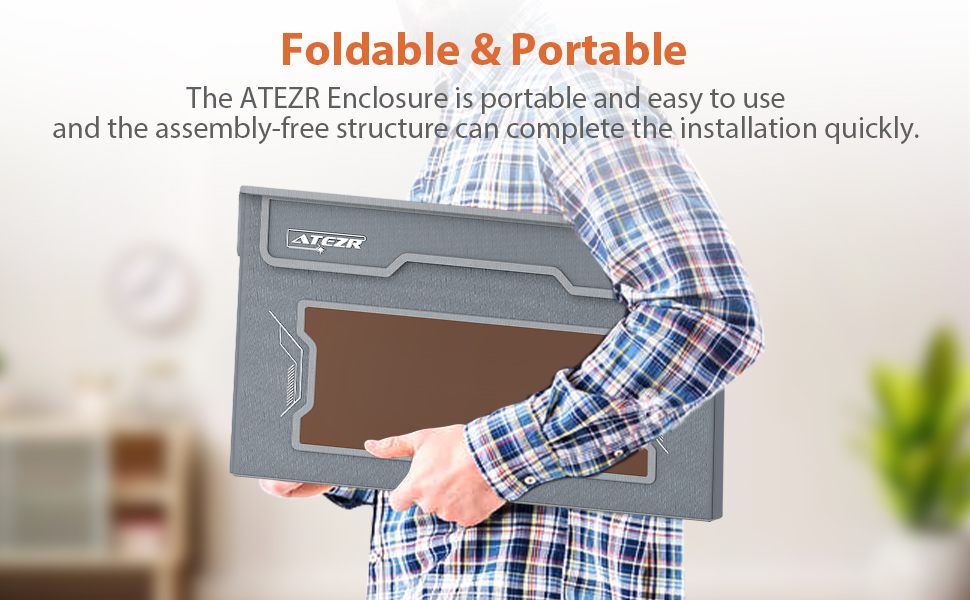 FLAME RETARDANT&SMOKE-PROOF&WATER-PROOF&NOISE REDUCTION
Flame retardant and smoke-proof including 900D oxford cloth, honeycomb and flame retardant cloth.
Smooth air inlet and outlet design greatly improve the efficiency of air circulation in the box.
A well-designed structure guarantees airtightness safeguards your safety and health from smog, noise, dust, and offensive odor anywhere, and preserves clean inside air.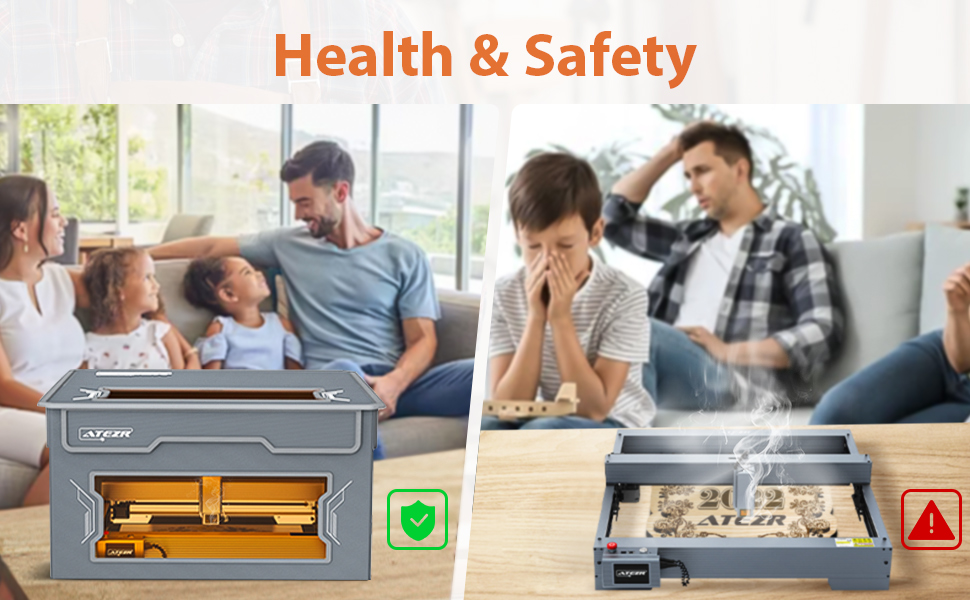 VISIBLE WINDOWS
Viewing windows are located on the top and front of the enclosure, effectively shielding the eyes when observing laser engraving and cutting.
SMOKE EXHAUST PIPE
The shortest smoke exhaust pipe can shrink to 50cm, and the longest can be stretched to 2m.
ADAPT MACHINE
The area is up to 760x730x400mm. Compatible with 99% of engraving machines on the market.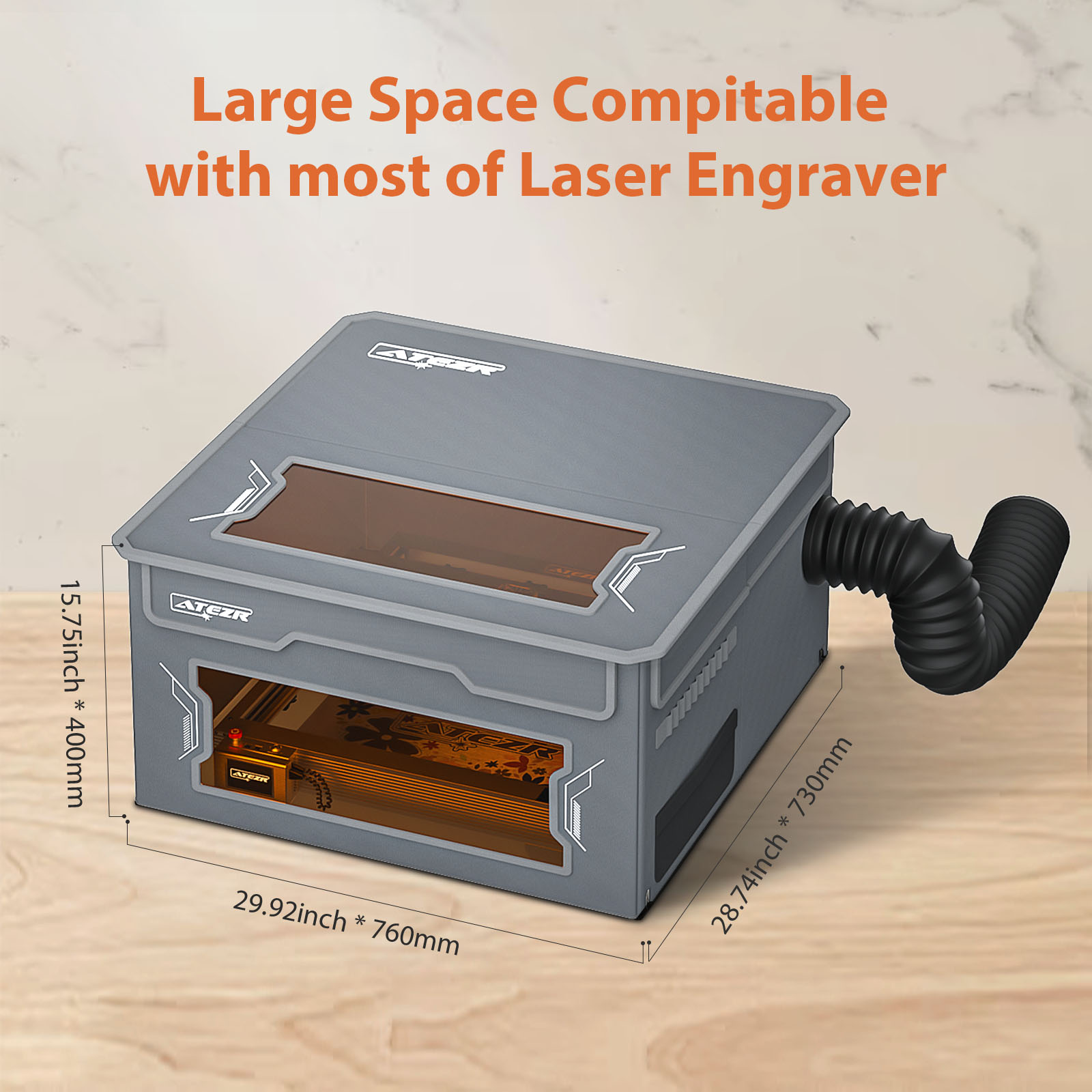 Why Atezr?
MATERIAL
At present, the mainstream products on the market are made of 600D flame-retardant polyester fabric layer, while the fabric layer of ATEZR contains 900D Oxford cloth, honeycomb and flame-retardant fabric, which has a stronger smoke barrier, effective fire prevention, waterproof, smoke prevention and noise reduction, to protect your health and use experience greatly.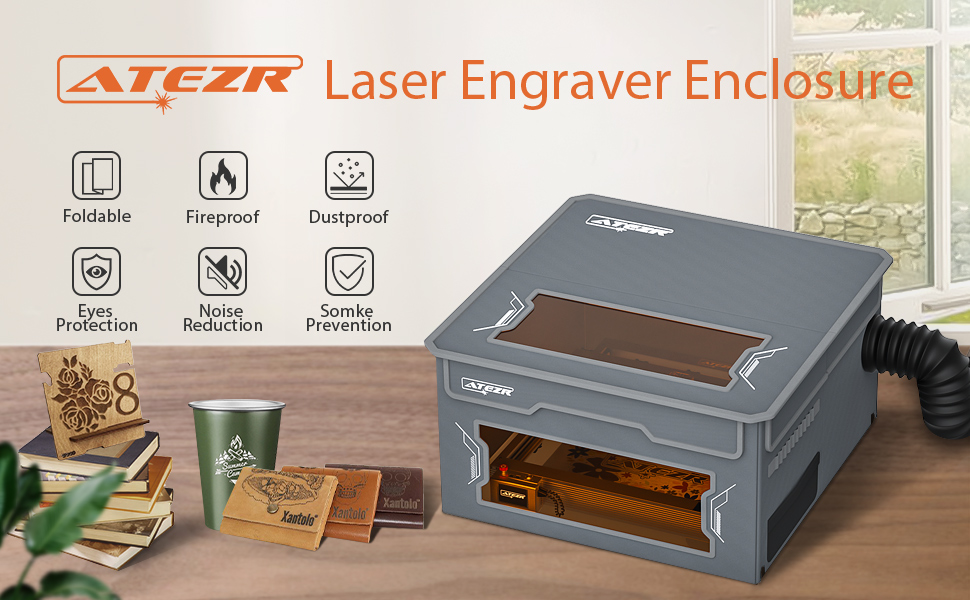 VISIBLE WINDOWS
Unlike other brands of enclosures, Atezr's enclosure has two viewing windows, one on the top and one directly in front of the product. When you place the laser engraving machine on a workbench with a suitable height, you can sit right in front of the enclosure to observe the laser engraving and cutting process, and you can rest while observing, which can greatly improve your using experience.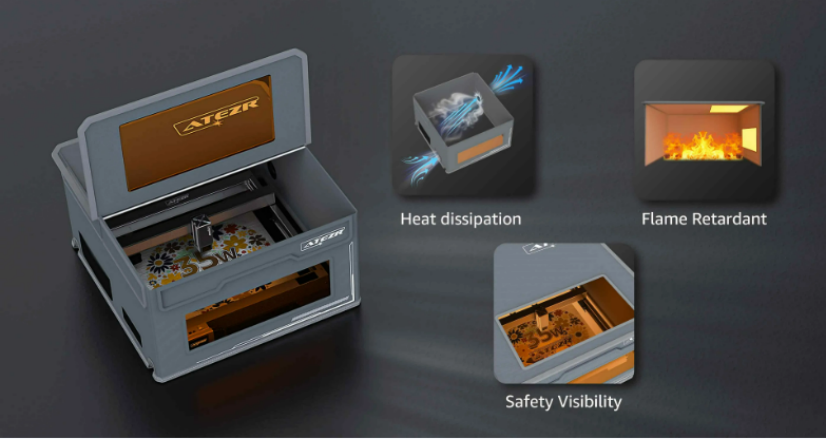 PRODUCT SIZE
Atezr's enclosures are the largest in size among all the products on the market, with an area of up to 760x730x400mm. Compatible with 99% of engraving machines on the market, whether it is a general-sized engraving machine or a large laser engraving machine.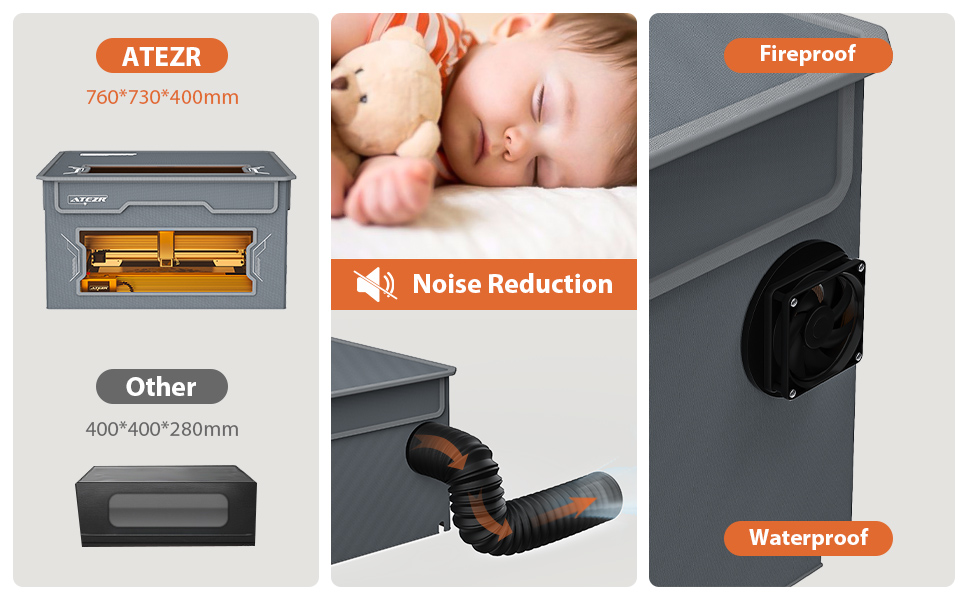 SMOKE EXHAUST PIPE
The smoke exhaust pipe is retractable. The shortest smoke exhaust pipe can shrink to 50cm, and the longest can be stretched to 2m. Users can adjust the length according to their own needs, which improves the flexibility in the use of the product.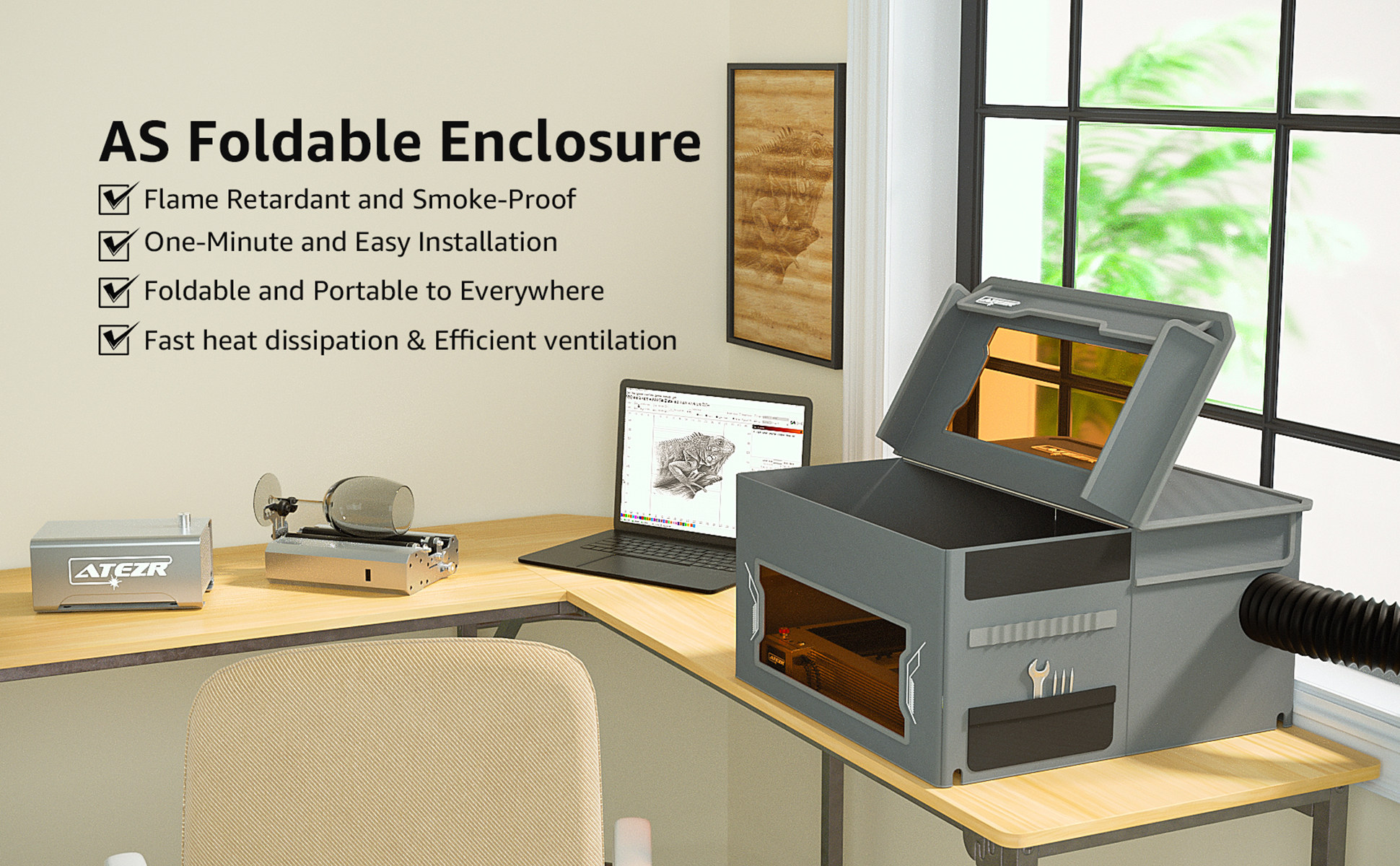 $20 OFF FOR NEW CUSTOMERS, CODE: AS20. CLICK THE FOLLOWING LINK TO GET YOUR DISCOUNT:
If you have any questions or suggestions, please fill in the blank below, we hope to hear your voice:
Join our Facebook Group to get inspired!
To know more, please click the following link to enter Atezr's homepage:
Comment