Earning with the laser engraver
Sep 02,2022 | Atezr
How to earn with the laser engraver?

People who are interested in laser engraving machines often ask how to make money with engraving machines. If you also have this question, please read this article, we will answer you on how to make money with a laser engraving machine from two aspects of "Provide A Service" & "Sell A product" and reveal what you need to start a laser engraving machine business invest.
Also, we have selected some of the best laser engravers for your convenience. We will list these machines and their capabilities. After reading this article, you will have a comprehensive understanding of how to make money in the laser engraving machine business.

1. Provide A Service
Providing a service means customers come to you to create something specifically for them, using your laser cutter. Here are some steps you need to do

1). Start making things and trying out the new processes and then share on social media
When you start the idea of making money with your engraving machine, you just have to start making something and share your project on social media, media, it's a great way to spread the word without any advertising. As you gradually start to gain a little fame, you may receive some requests for custom projects

2). Create a Business Website to showcase work
When you start to have a certain foundation, you can start by creating a professional website with a high-quality portfolio of work if you want customers to approach cold you'll need to be able to show them at least something similar to what they might be looking for so having a wide range of pieces and projects on display is a good idea and that might literally mean you scrolling through Pinterest and just picking a bunch of popular things to make just so that you have something to show.
3). Advertise with similar businesses
When you feel that simply sharing your project on social media brings little crowd, you can choose local community pages, online business centers or other similar businesses to do some advertising, which will be of great help to expand the popularity of your project.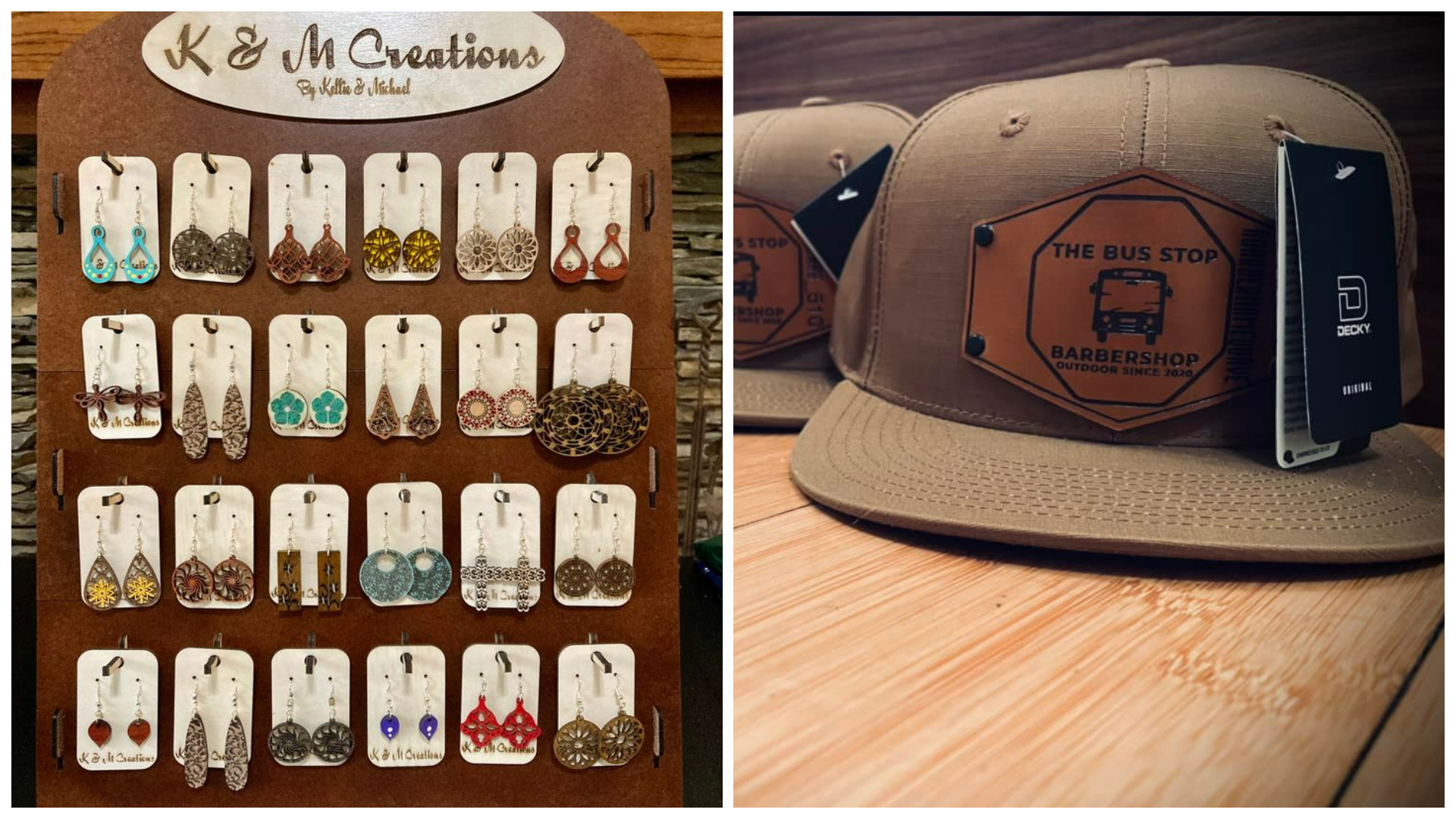 2. Sell A product
1) Product Idea
if you have an idea for a laser-cut product awesome just run with that . And if you don't have, you can jump online and just make a variation of what other people are selling which can bent getting a product perfect. But you need to think about its viability and the operational costs.
2) Sales Channel
When you have a good product idea and clearly know the cost of it, you can start thinking about which channel to choose to sell your product. Here are three sales channels listed for you
-Wholesale
Wholesale online and locally wholesale as where you sell a product usually in bulk to a retail store and they then sell on to the customer this takes a lot of the legwork out of things and also leverages stuff like their own brand identity and the marketing but it does come at a steep cost to your profit margin usually the retailer will need at least 50% of the retail price to make it worthwhile for them so if your product costs you two hour to make per unit and then you add a profit margin of saying another $4 unit then you sell wholesale at the $6 per unit they then need to be able to sell your product for at least $12 per unit.
-Online Direct
Directly online can be slightly less stressful and a bit more flexible as you can change the pricing and add and remove items whenever you need to adjust something. We recommend platforms like Etsy and local listing sites, the benefit of them is that they already have a customer base searching for items and that they have integrated management systems to help you deal with the orders now the downside is that they're gonna take a percent cut from your sales and you'll have a lot of competition between similar products.
The alternative is to host your own online store, if you like marketing and have a good branding presence this can be a great way to differentiate yourself and grow while maximizing your profits.
-Local Direct
Local selling at pop-up stores and craft fairs can be a great way to avoid ongoing overheads you can spend a few weeks making products and then hopefully sell them all off in one go it can can be a great way to get instant feedback on design pricing from customer rather than just clicking refresh on your website and wondering why thinks that sell craft fairs and the like will normally charge a seller's fee to set up a stall per day and you probably need a factor in your own hourly rate spent standing behind that stores as well.
3) Pricing
First of all, the cost of manufacturing and packaging is the basis, then you need to calculate the shipping cost from your country to all over the world, and exclude some countries with high shipping costs in due course. Finally, don't forget the platform cost and advertising cost. For the long-term development of your business, you may need paid advertising. Based on all these, you can do market research to see how much the same type of product sell. After subtracting the cost that we mentioned above, you can roughly calculate how much surplus you can put into your pocket for every product you sell. If the profits are not ideal, you can adjust the selling price appropriately.
Laser engraving machine recommendation


More questions? Join our Facebook Group to get inspired!
Join Our Group On Facebook: Atezr User Group
Comment