ATEZR P20 PLUS Laser Cutter Machine
Apr 03,2023 | electronics-lab
Atezr P20 Plus Laser Engraving Machine is a machine designed specifically for laser engraving. The name of the machine, however, is deceptive. And it's not just limited to that, either. You can use the P20 to engrave on a variety of substrates, including wood (various types), paper, leather, ceramic tile, slate, and more. Additionally, it can slice through wood, paper, and even thin metal.
The 120W machine power and 20–24W laser power of the ATEZR P20 PLUS Laser Cutter Machine can produce ultra-fine compressed spots that are as small as 0.06 x 0.08 mm. The ATEZR Laser Engraver Cutter not only supports cutting up to 28 mm paulownia wood and 40 mm black acrylic, but also 15 mm paulownia wood, 12 mm black acrylic, and 0.3 mm iron in one pass. With an air assist of 30L+/min, the laser module lessens burn marks on the cutting edge, improving the precision of the details. The laser module has a lifespan of up to 30,000+ hours. ATEZR uses the most advanced dot compression technology based on physical optics. It also uses four 6 W laser diodes with a focal length of 40 mm to create new ways to connect lasers. ATEZR P20 Plus laser engraver can penetrate 100+ materials. More power, better cutting, and faster speeds have been added to meet your different needs.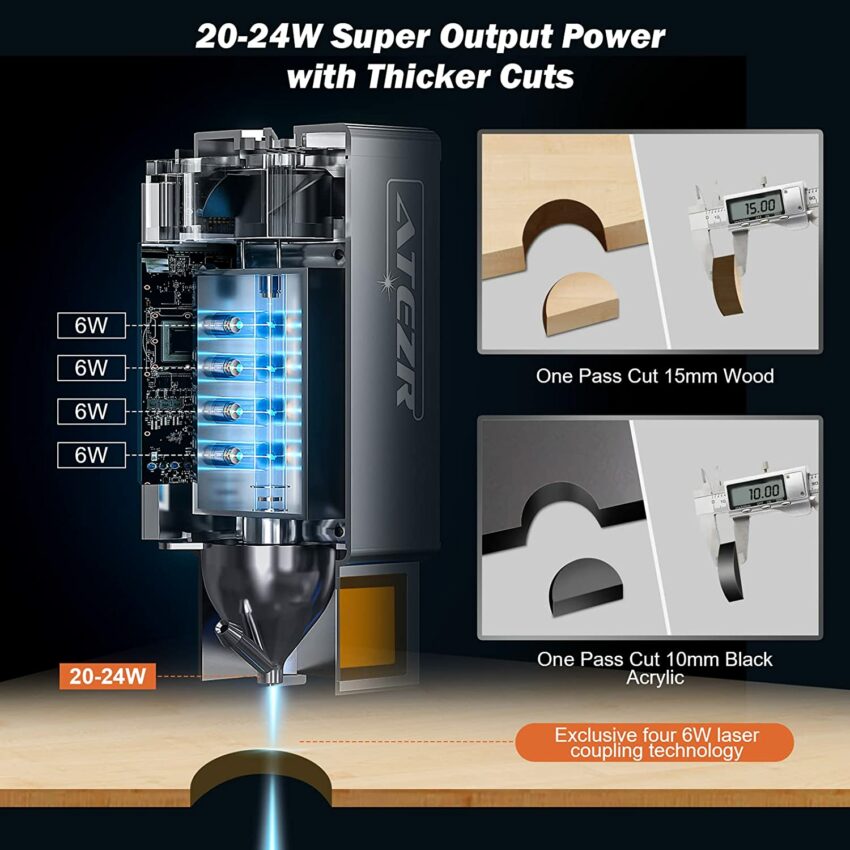 High Efficiency And Accuracy
Specially designed industrial laser cutting and engraving system. The laser module's sturdy frame, made of high-density aluminum alloy, maintains accuracy and motion stability even when operating at high speeds of up to 24,800 mm per minute. When compared to 10W machines, the ATEZR P20 Plus laser engraving machine is 40 % to 80 % more efficient. The engraving and cutting machine's large working area, which is 17 x 17 inches, can meet your needs for engraving large-area works. The ATEZR P20 Plus with the extension kit can increase the engraving area by 100%.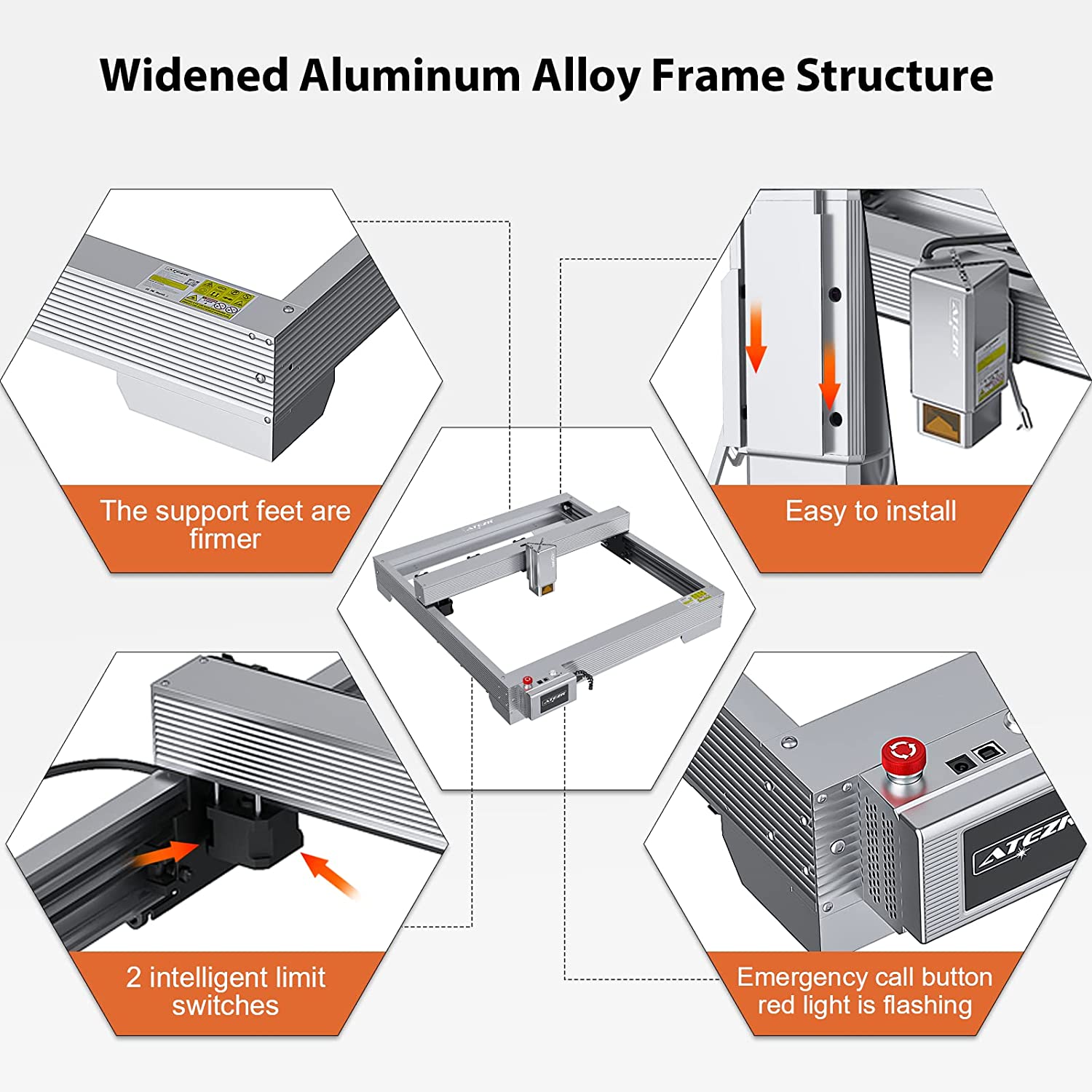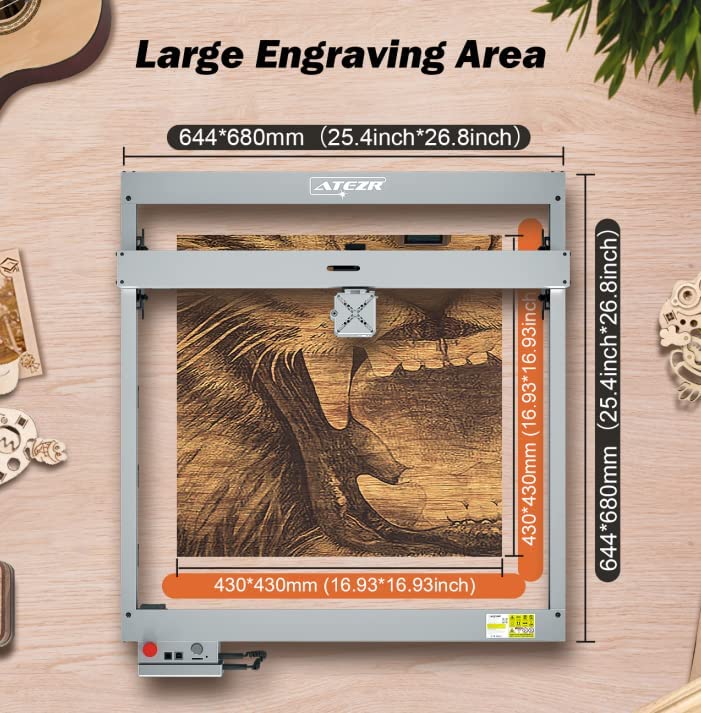 Atezr Ka Air Support
The 32-bit motherboard of the ATEZR P20 Plus diode engraving machine makes it safer and simpler to use. The laser-cutting machines have a red emergency button that you can press at any time to halt the process. On the X and Y axes, two limit switches have been installed to locate the laser module and manage the moving track. Up to 98% of UV rays can be effectively blocked by the filter glass, keeping the protective cover from melting or burning and safeguarding eyes. The safety glass cover on the laser module is tinted orange to protect the user's eyes so see the laser for accurate positioning while engraving. A 30-liter-per-minute airflow is used to remove the high-temperature smoke produced as the laser engraving process cools. Make sure the engraving and cutting surfaces are clean and streak-free. Air Assist is a standard feature of the ATEZR P20 Plus Laser Engraver, saving you time and money
.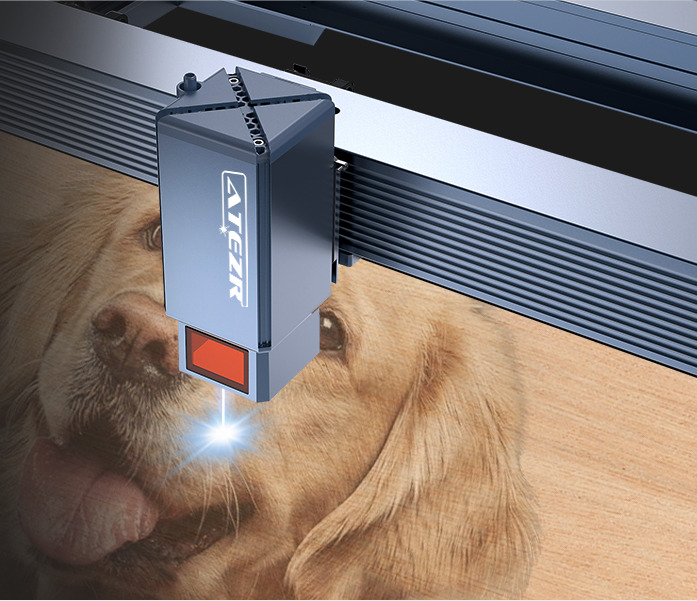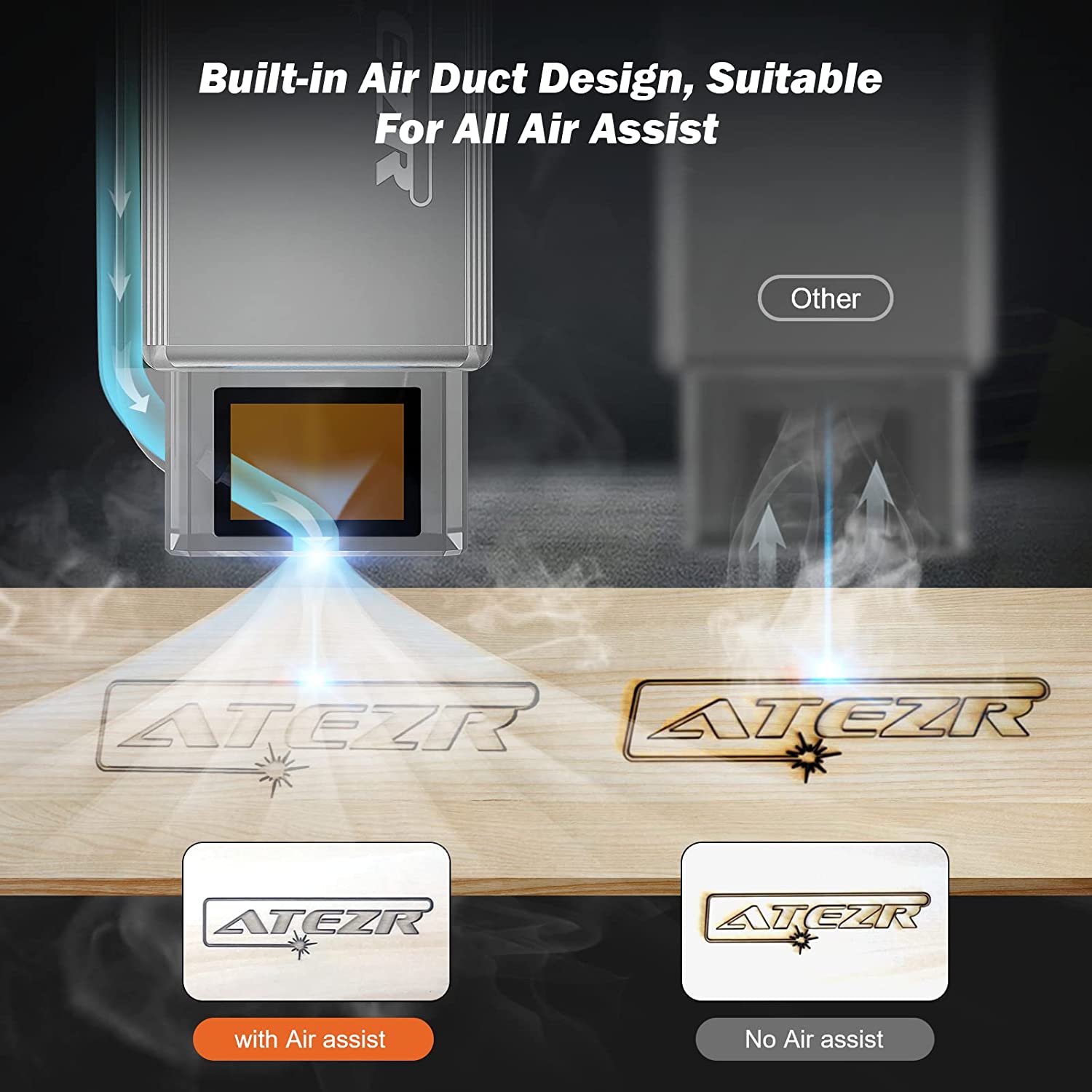 Multiple Connection
The ATEZR P20 Plus laser cutter and engraver work with computers, tablets, and other electronic devices. Supports LightBurn on Mac OS (paid) and Windows, as well as LaserGRBL on Windows XP/7/8/10 (free). You can transfer data in formats like NC/BMP/JPG/PNG/PNG/DXF, etc., using Wi-Fi, USB cables, TF cards, and the AtezrLaser app (currently available on Google Play and the Apple App Store). The laser must be focused on the material in order to begin engraving or cutting. A spacer block, which is used by many other laser machines but can be tricky to use accurately, The P20 Plus has an integrated focus lever that makes it simpler to focus while also improving accuracy. A truly win-win situation!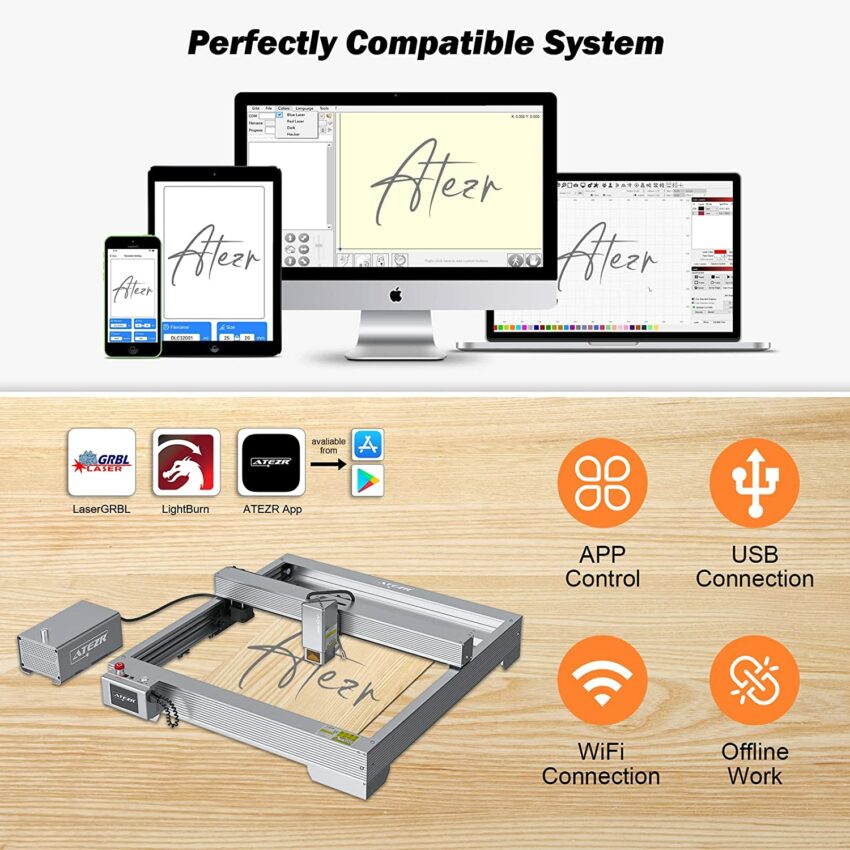 Magic Color Engraving
Metal engraving will no longer be restricted to black, grey, and brown, thanks to Magic Color Engraving ATEZR's technical advancements. According to the defocus amount, pulse frequency, and other suitable parameters, colored oxides are produced on the surface of stainless steel as it is heated by the laser, expanding your color palette to 340+ colors and enhancing your creativity. Set the laser's parameters properly to watch your metal creations come to life. A single machine makes it simple to complete family projects, launch a small business, raise kids, prepare gifts, decorate for holidays, and more.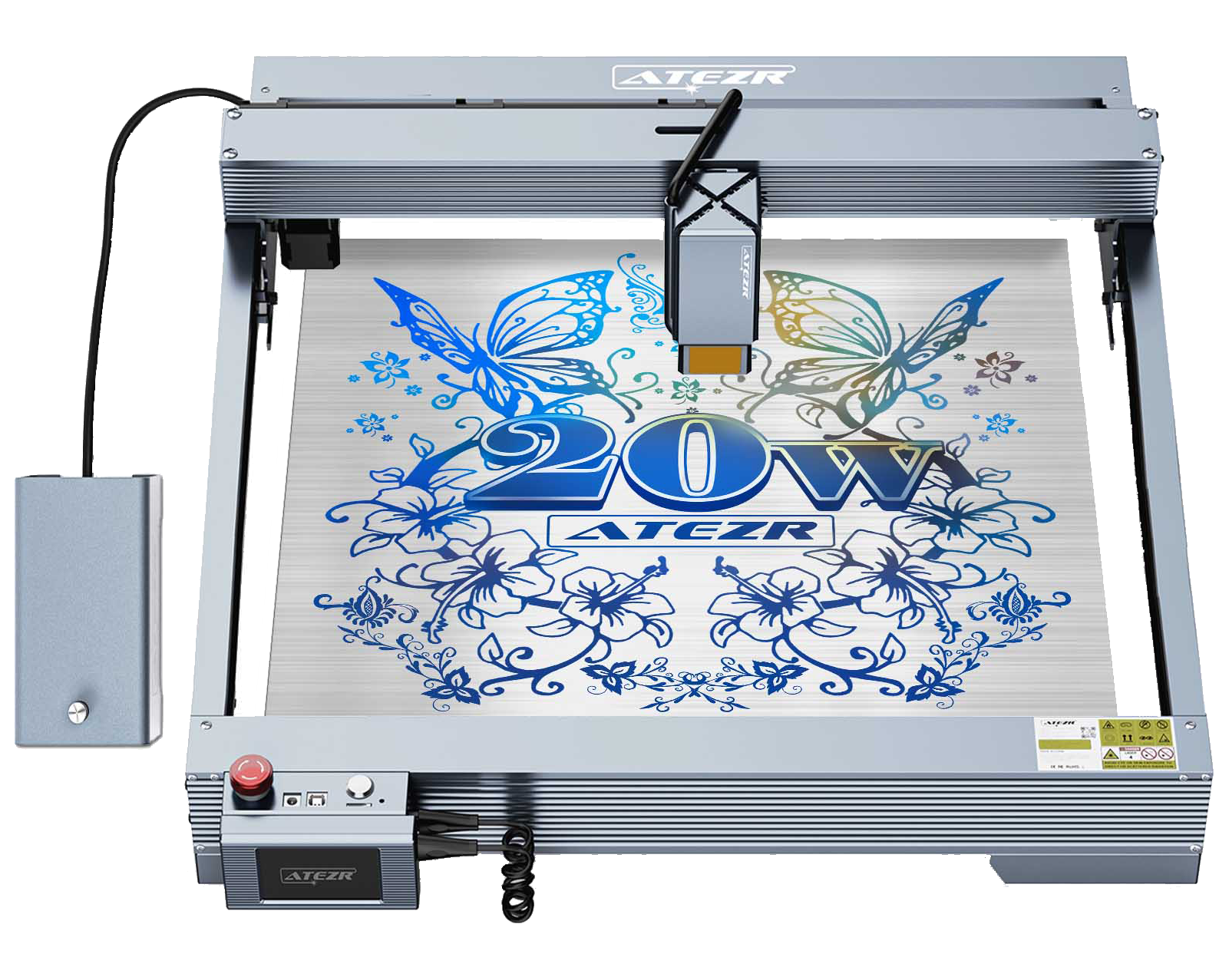 Product Specifications
The item's dimensions are 29.25 x 6.1 x 19.8 inches, after the ATEZR P20 Plus was out of stock due to hot sales.
Basic operation controls are provided by a detachable 3.5-inch display screen. With its integrated Wi-Fi connectivity and TF card slot, the laser device can be operated remotely thanks to a mobile app created by Atezr. According to Atezr, the app enables creativity without confining users to a single location and makes it simpler for beginners to use the Atezr P20 Plus laser engraver. Perhaps, but for better outcomes, independent PC software is a better option. The P20 Plus is not intended for use in typical household spaces but rather for an area with good ventilation. The right airflow is essential.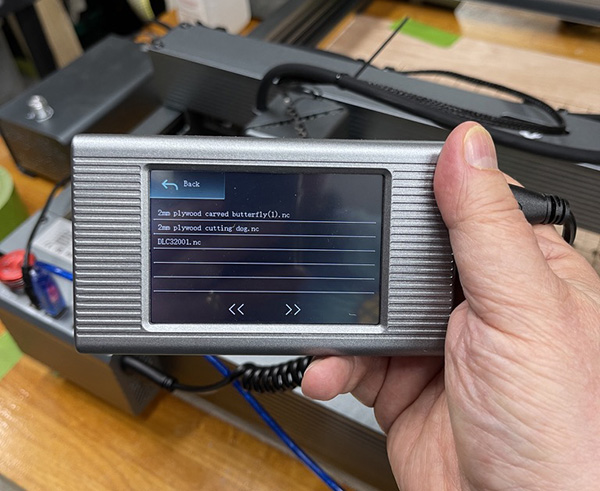 Experience After Sales Is Perfect
Every engraving machine from ATEZR comes with a 30-day, unconditional money-back guarantee, a 1-year warranty, and lifetime technical support. Adopts a modular design, making it simple to repair, replace, and exchange parts. The entire laser engraving tool can be put together in 10 to 20 minutes. All issues are resolved by a skilled technical team and support team. You can reach the customer service team 24/7 online.
Software
While the P20 Plus can be operated by a number of Apps, LightBurn is the de facto industry-standard laser app and costs $60 US after a 30-day free trial. Although the learning curve for LightBurn initially seems intimidating, there are many tutorials online. Think of Photoshop or any other digital drawing program when thinking about the import capabilities of LightBurn. Although other laser engravers might have their own software, LightBurn is far superior to these programs. Atezr made the right choice to only suggest LightBurn.
The P20 Plus's default LightBurn settings are available on Atezr's website. After installation, the laser just functions. The speed and power required to cut or engrave various materials can be adjusted in LightBurn's materials library feature. Even user-made libraries are available for the P20 Plus.
Atezr Laser Engraver And Cutter Machines With Accessories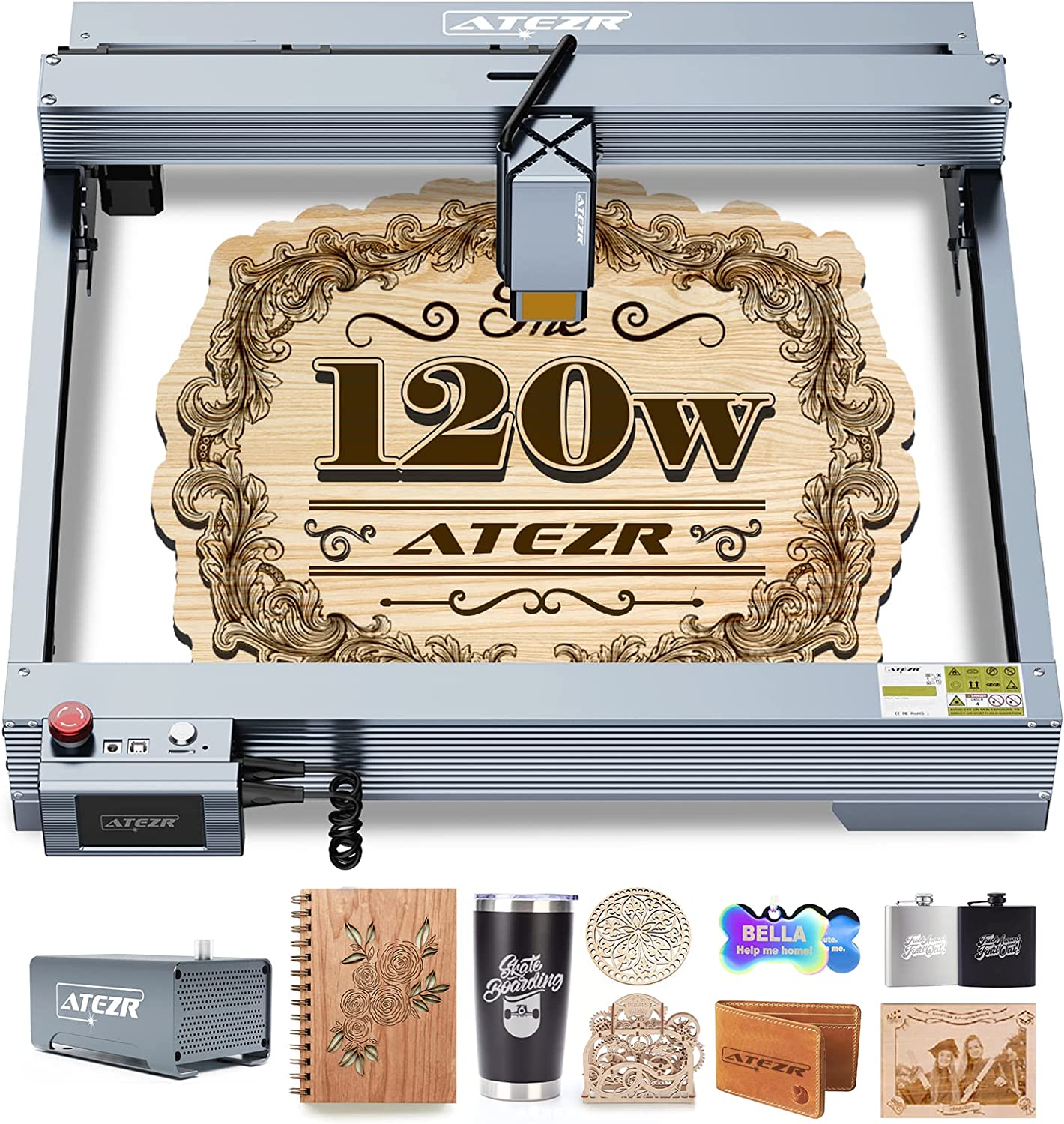 The ATEZR P20 Plus has a machine power of 120W, a laser module power of 20-24W, and a laser spot of 0.08 x 0.06mm. The speed of the moving parts is 24,800 mm/min, and the working area is 17 x 17 inches. The service life is 30000h+. It has been approved by CE, FCC, RoHS, and FDA, and it has an offline display. The cut in one pass is 15 mm of wood and 12 mm of black acrylic, and the maximum cut is 28 mm of wood and 40 mm of black acrylic. KA Air Assist is the accessory that is used.
It has received excellent reviews for its special features, which include easy assembly and startup, perfect packaging for shipping, a sturdy build, and an incredibly versatile and potent laser. Software integration with LightBurn is an added benefit that exhibits excellent results on a variety of materials.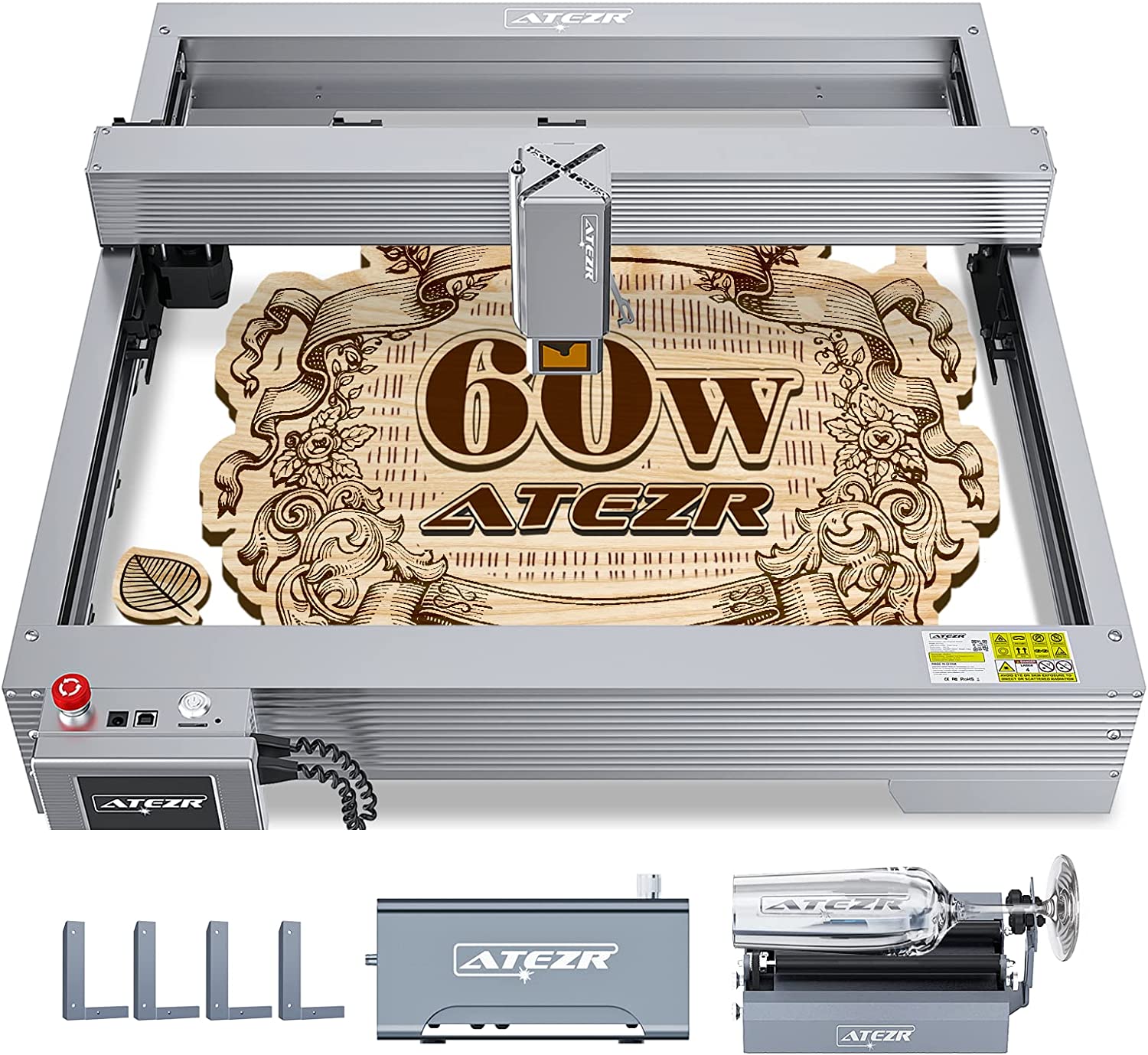 The machine power of the ATEZR P10 Combo is 60 W. The laser module power is about 10-12 W, and the laser spot is 0.08 x 0.06mm. The speed of the moving parts is 24,800 mm/min, and the working area is 17 x 17 inches. The service life is 30000h+. It has been approved by CE, FCC, RoHS, and FDA, and it has an offline display. The cut in one pass is 10 mm of wood and 6 mm of black acrylic. KA Air Assist and KR Rotary Roller are the items that are used.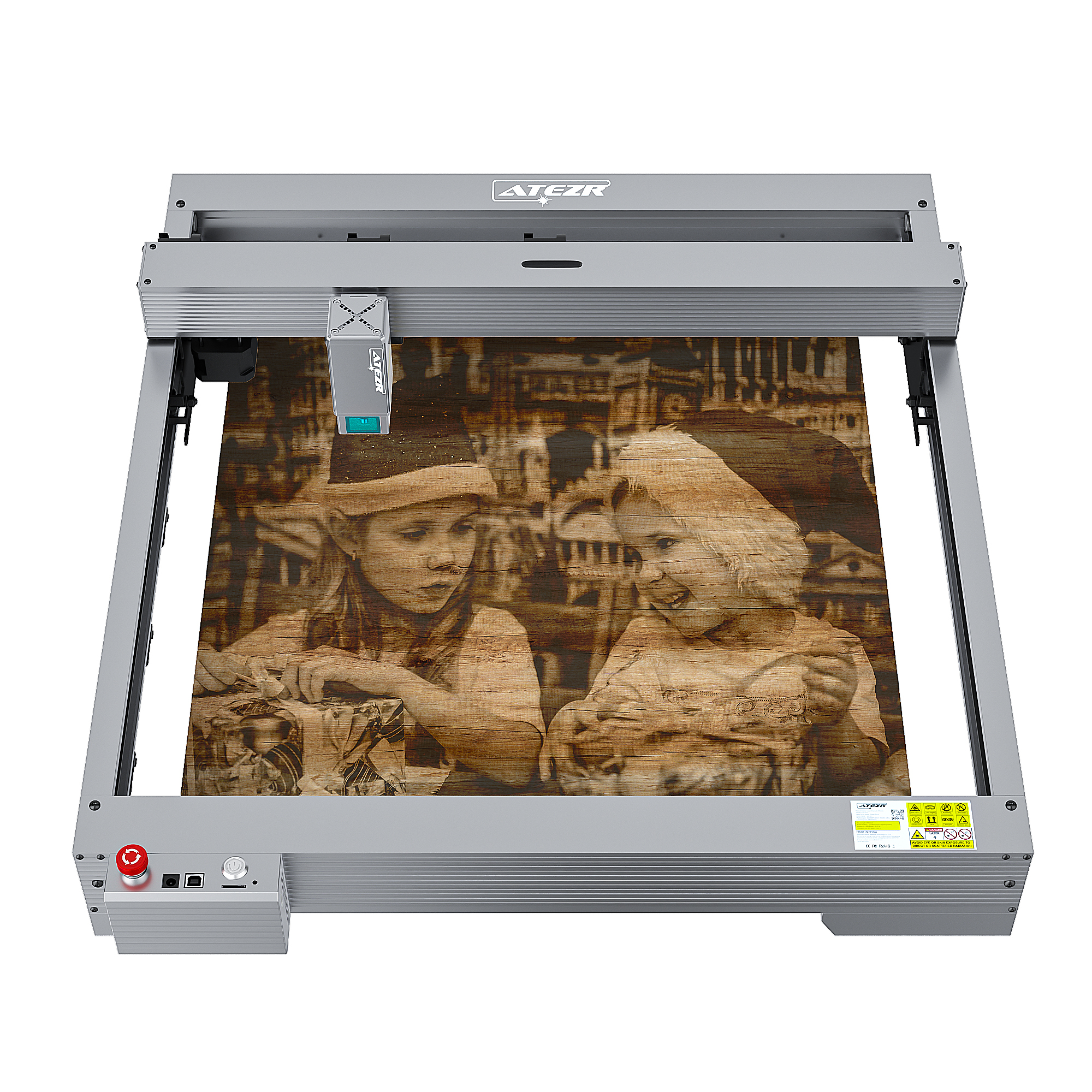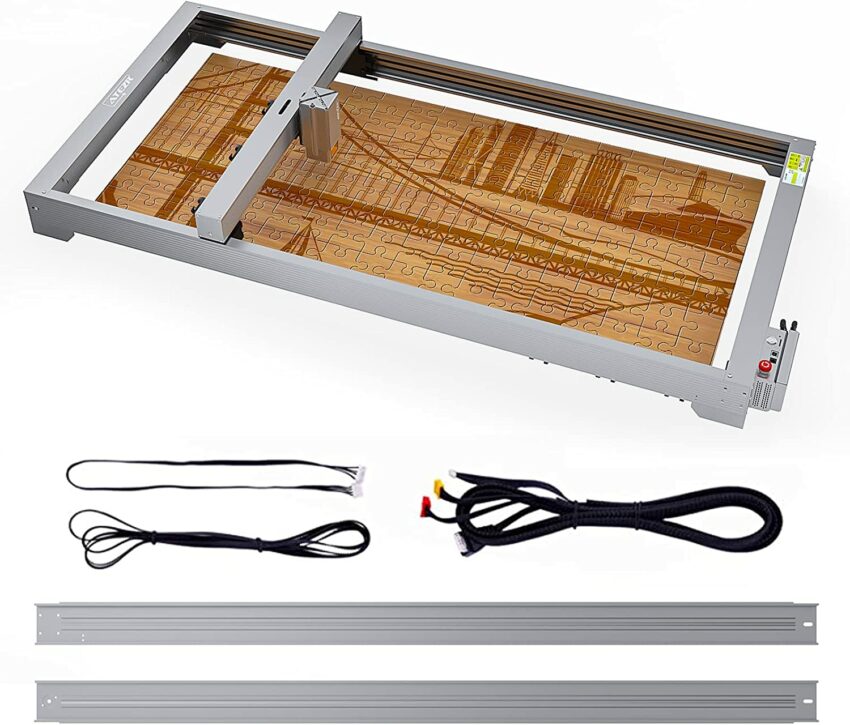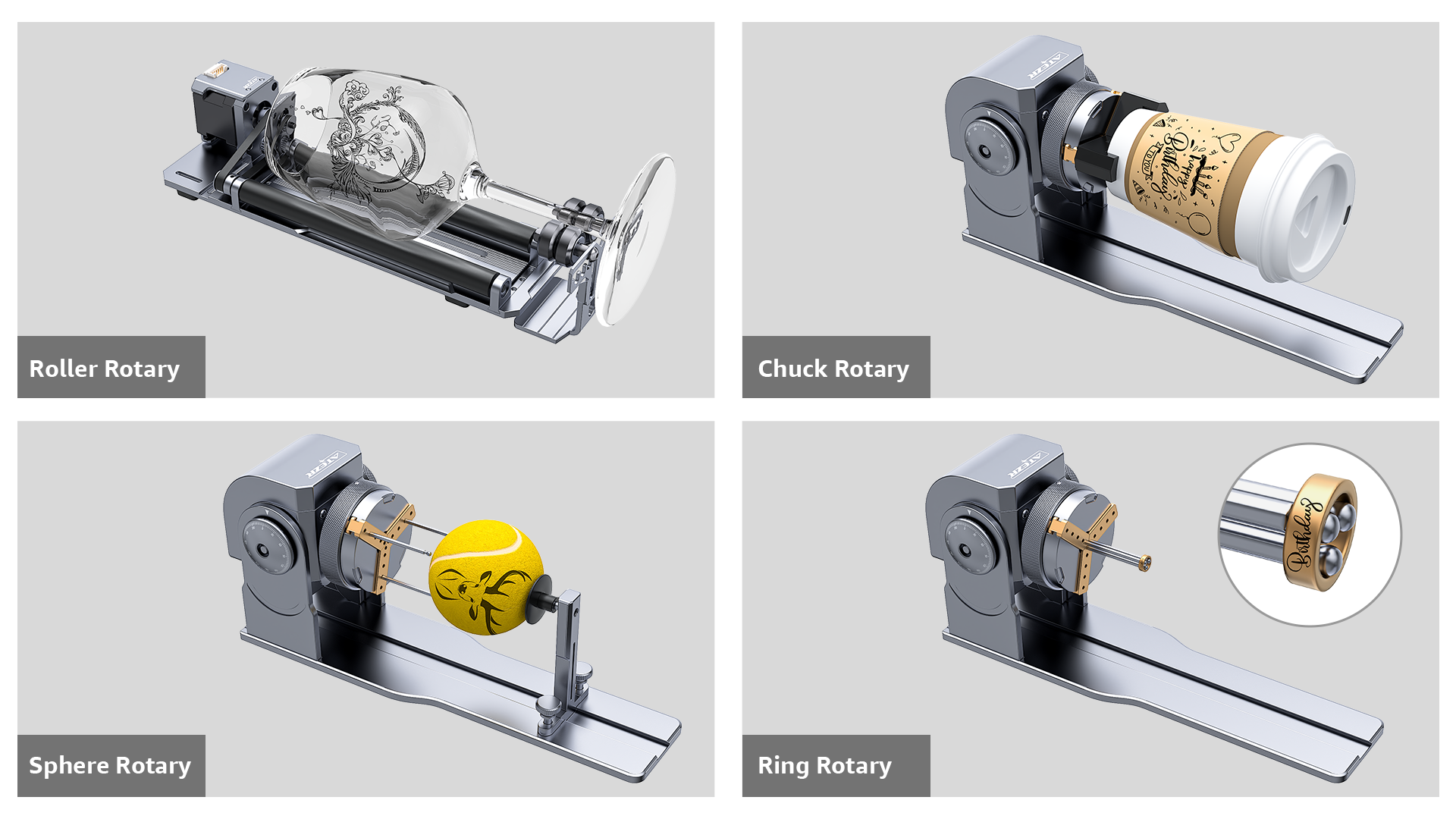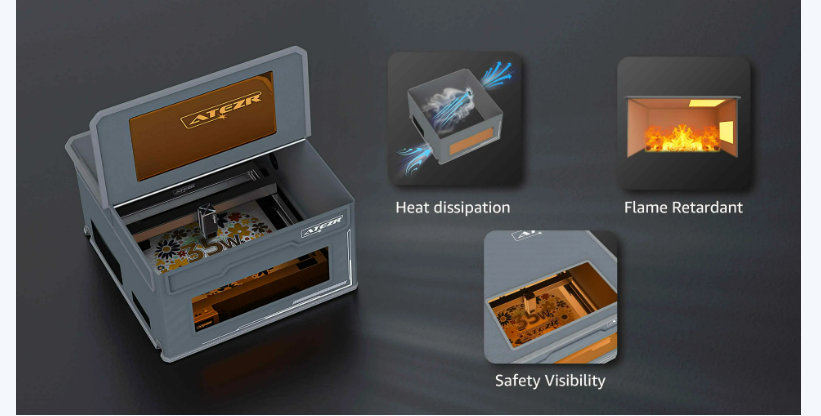 Source From electronics-lab
Comment