Business Ideas for Super Bowl
Feb 03,2023 | Atezr
Last year's Super Bowl saw football fans across the country decking out their homes and clothing with helmet motifs and player numbers to represent their favorite team. With the 2023 Super Bowl less than a month away, that means it's time for everybody to get in the spirit—but this year, Atezr thinks we can all do even better. Instead of rushing to the store and scooping up an armful of dime-a-dozen decorations that will make your house look just like everybody else's, by using a laser engraver, sports fans like you can design and create their own unique decorations that will set them apart from the rest of the neighborhood.
With a laser engraving machine, you can do more than just make your own décor, too. Craft lovers who want to share their designs with the world can use this equipment to start a small business and monetize their work in the weeks leading up to the big game. Regardless of your reasons for purchasing an Atezr laser engraving machine, today we're showing our support for creative football fans by going over some ideas for laser-cut decorations and accessories. We encourage you to take these ideas and run, use them as a starting point for your own personalized creations, or do something else entirely! Whatever suits you, we're here to provide inspiration with the following suggestions.
Acrylic Crafts
Laser-Cut Acrylic American Football Helmets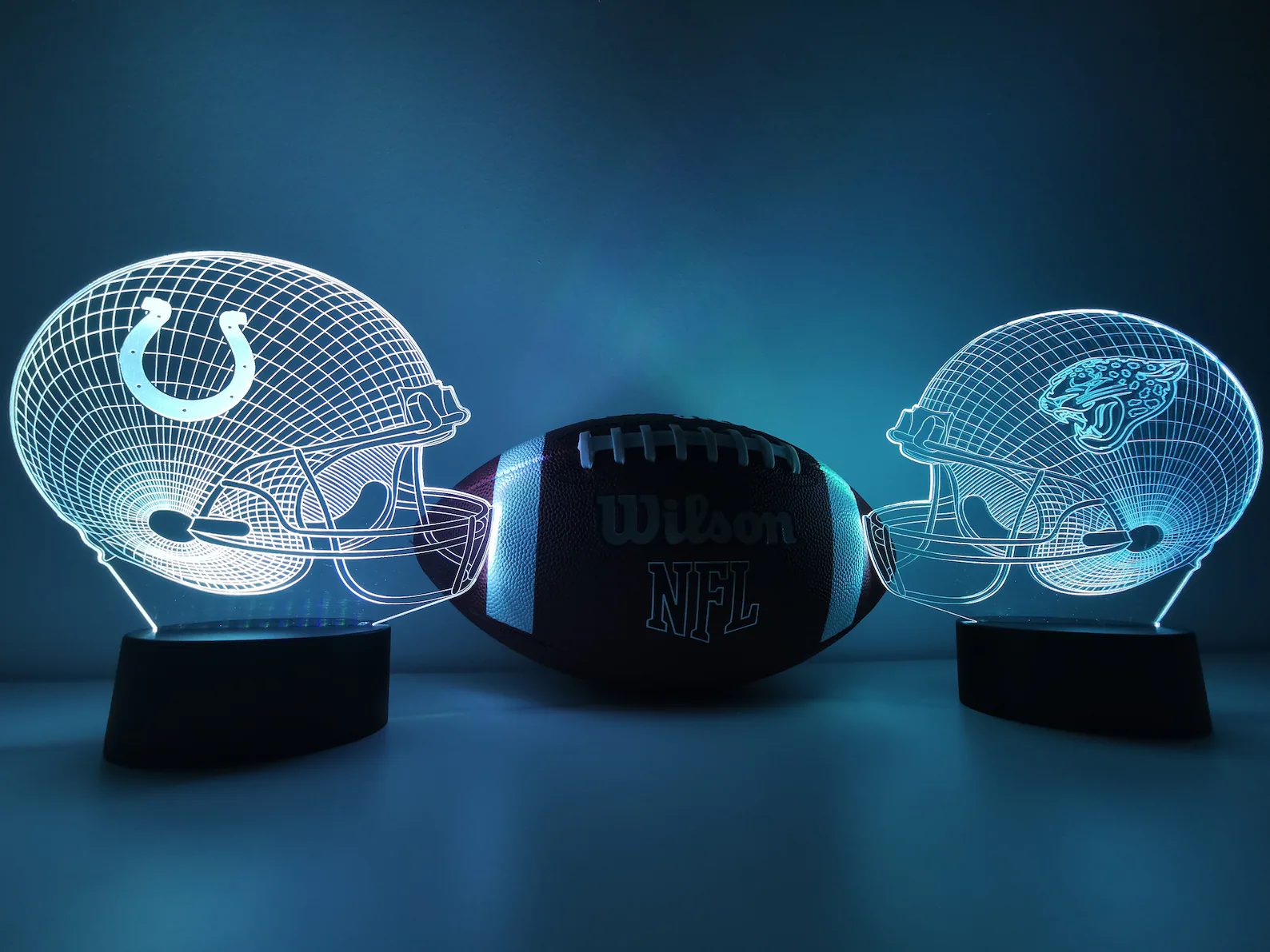 A set of engraved acrylic American football helmets is perfect for decorating your home or your work desk. You will be enchanted by its pattern every time you see it on your desk. If you have your favorite American football players, you can add their names to the acrylic American football helmets! Engraved acrylic American football helmets and other items that have cutouts in the design can be made using the Atezr V35 PLUS 35W laser engraving machine with the engraving settings at 6000 mm per minute and 50% power and the cutting settings at 100 mm per minute and 80% power along with the Atezr F4 Honeycomb Working Table Panel to make sure you aren't damaging your work surface underneath.
Laser-Cut American Football Ornament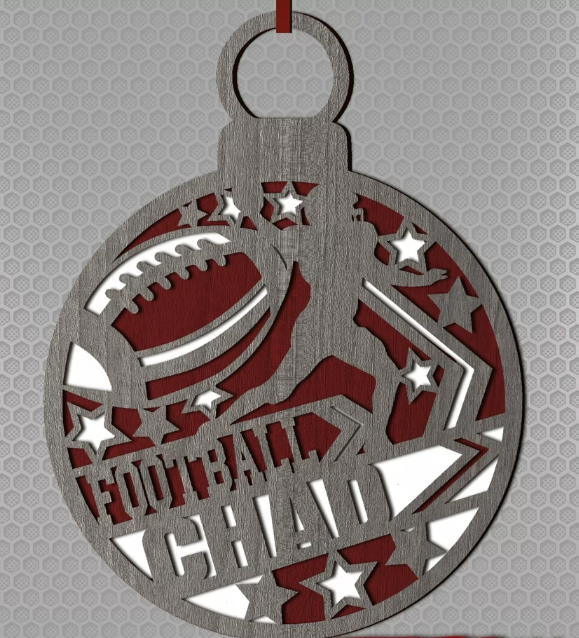 It is an awesome little ornament that lets you bring a piece of your personality by decorating your house with it. Customized football ornaments engraved with the name of a favorite player are a great, subtle way to show your team spirit in the lead-up to the Super Bowl. The best part is that you can change the finer details of the design to suit the person it's being made for, so even if different members of your family have different favorite teams or players, they can all express themselves individually with this fun decoration. Ornaments like these can be easily made with the Atezr P20 PLUS engraving machine with its cutting settings set to 100 mm per minute and 100% power, which comes with an air assist accessory that will keep your work area free of dust and smoke.
Wooden Crafts
Laser-Cut American Football Helmets Wall Decorations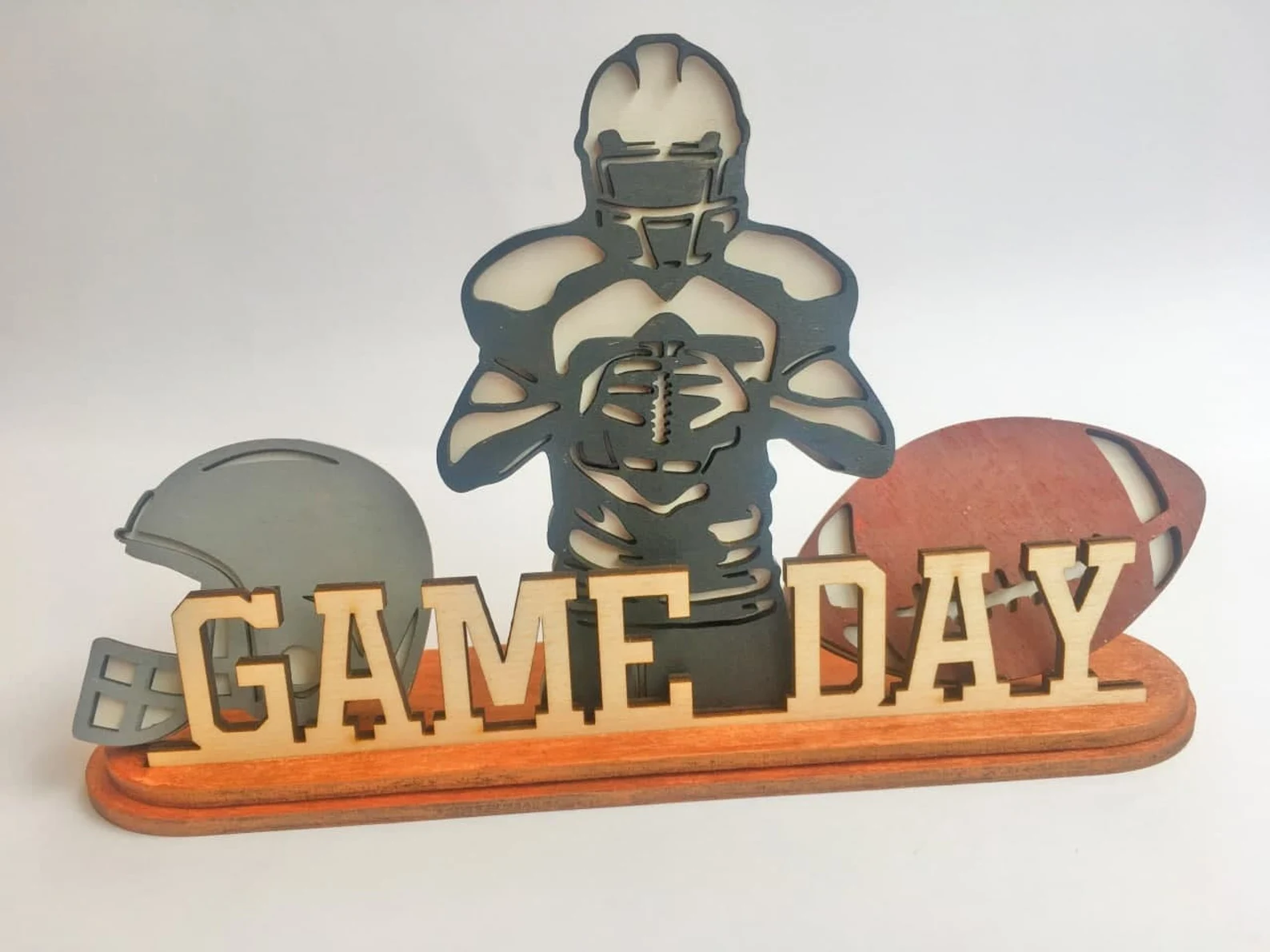 Guests will know right away what the party's all about when they see large helmet-shaped decorations hanging on the wall. You can customize them any way you want by incorporating as few or as many elements as you like, whether you prefer to keep it on the simplistic side or include a direct reference to a particular player. Either way, the finished piece will look great and will make a perfect addition to your game day décor. To get the best results, we recommend using the Atezr P20 PLUS engraving machine with the engraving settings at 6000 mm per minute and 40% power and the cutting settings at 350 mm per minute and 70% power with the Atezr F4 honeycomb working table panel underneath, which will create a beautiful cutout while protecting your work surface from laser burns—think of it like using newspaper to make sure kids don't spill anything on the table while doing arts and crafts.
Laser-Cut Super Bowl Player Display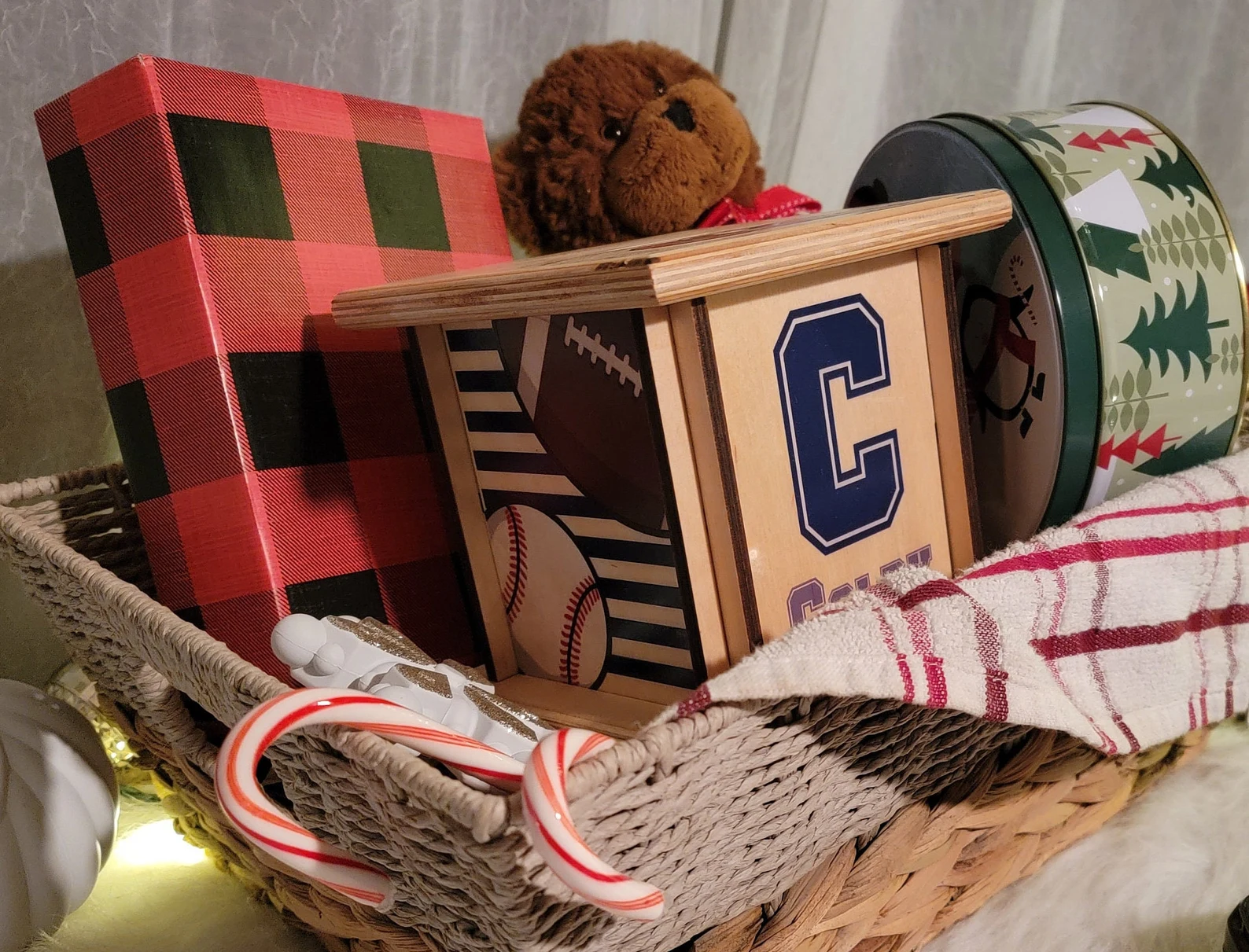 If you use to put ornaments to decorate your desk, it is a great idea to customize an ornament by engraving your favorite Super Bowl players. Adding some decorations like these to your home can help to intensify the Super Bowl ambiance. The ornament can be cut with an Atezr P20 PLUS engraving machine with its settings set to 480 mm per minute and 100% power.
Laser-Cut Coin Bank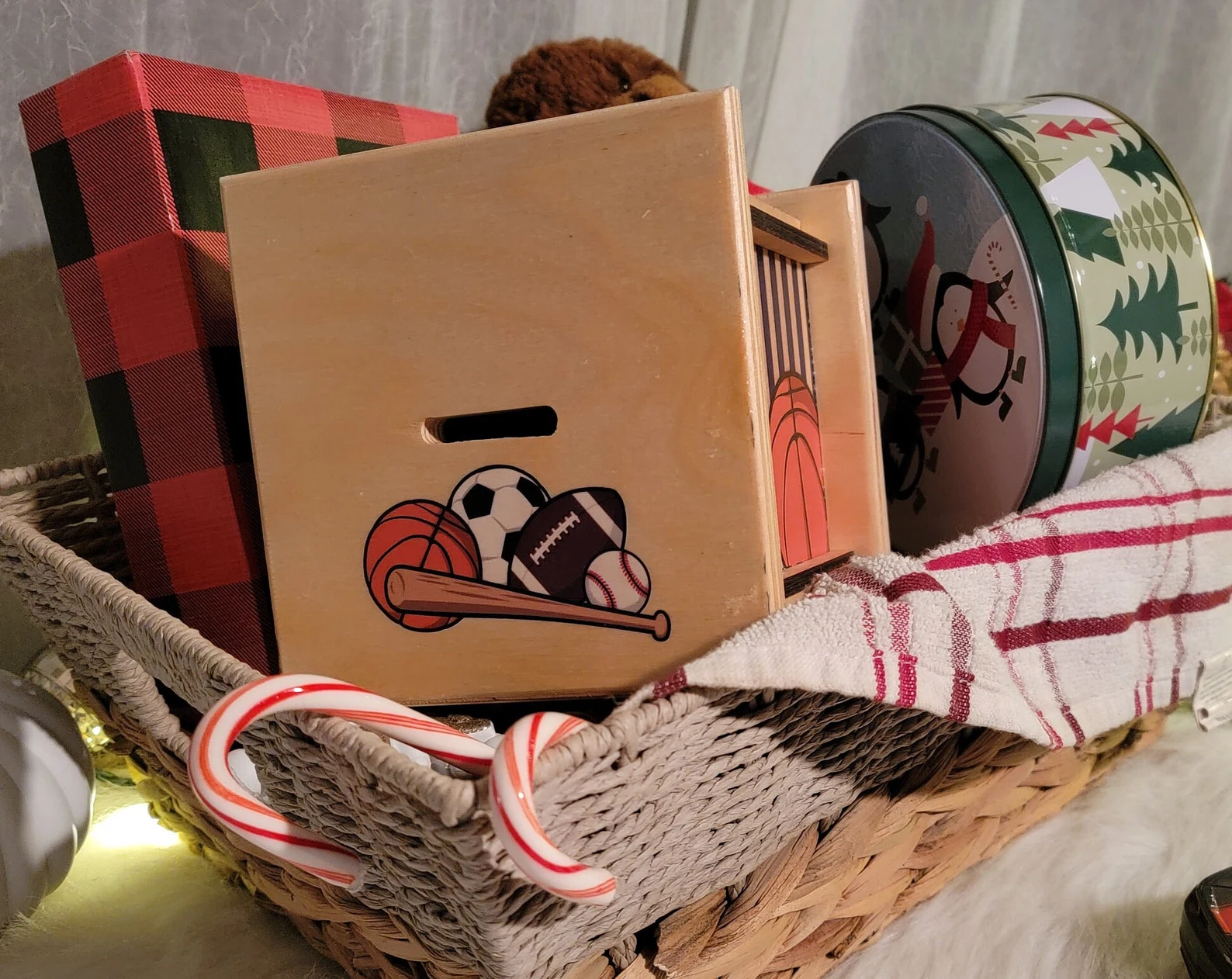 A handmade engraved football coin bank is a perfect gift if your kids love watching the Super Bowl. You can engrave the piggy bank with your children's names to teach them the value of saving money. The coin bank will make your children feel special. They are made by the Atezr V35 PLUS 35W laser engraving machine with the engraving settings at 6000 mm per minute and 20% power and the cutting settings at 600 mm per minute and 80% power.
Stainless Steel Crafts
Laser-Cut Custom Stainless Steel Tumblers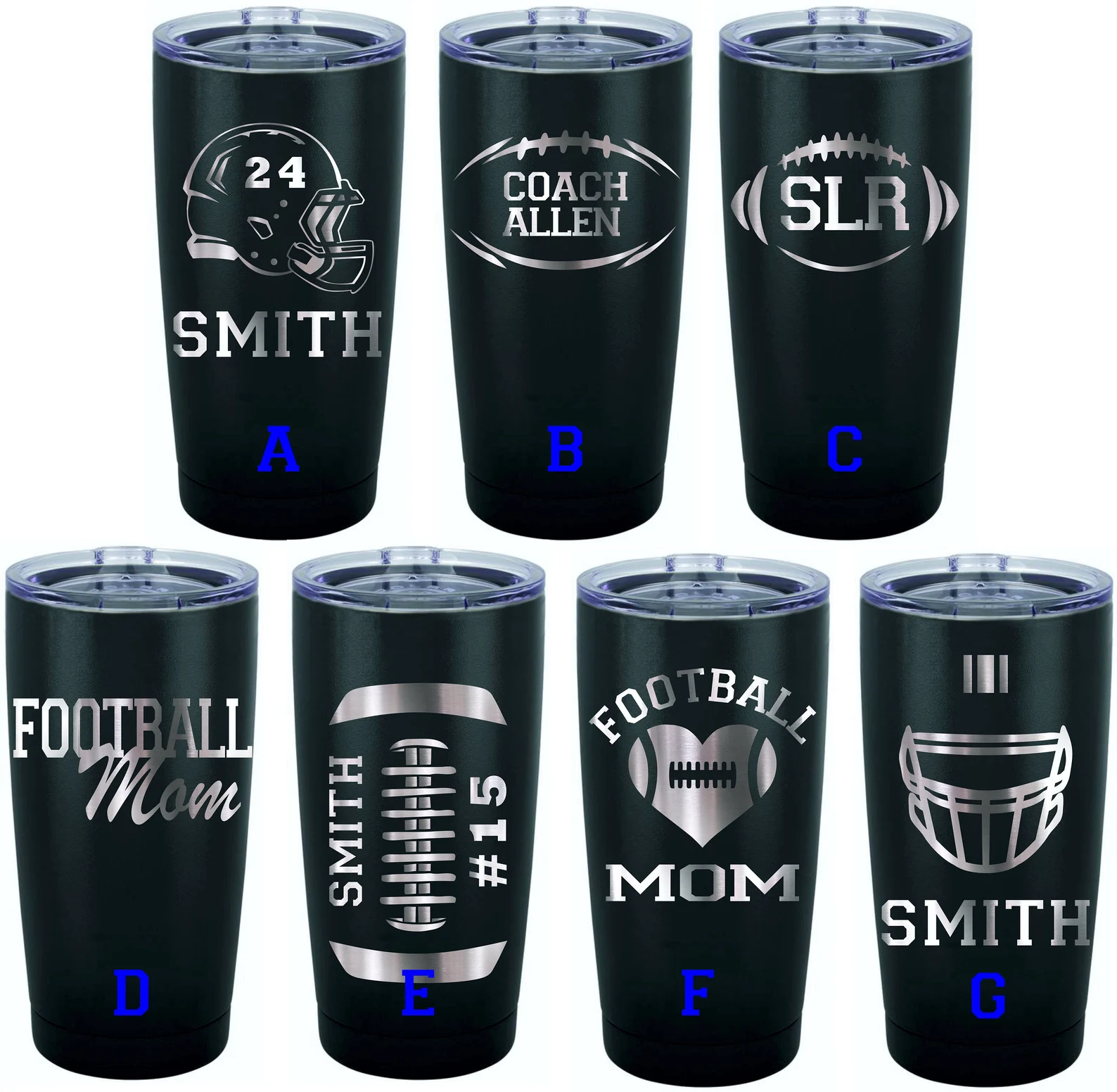 While many sports fans might drink beer straight from the bottle during the game, there's nothing quite like being served beverages in engraved tumblers commemorating your favorite team, the Super Bowl itself, or even your own watch party event. Creating custom tumblers is also an excellent way to make sure you have a unique souvenir after the game ends, regardless of who wins. For more cylindrical objects like blank tumblers that might roll off of a flat work surface, you'll want to use the Atezr P10 10W laser engraver with its engraving settings set to 300 mm per minute and 80% power in conjunction with the Atezr KR rotary roller for maximum accuracy and control.
Leather Crafts
Laser-Cut Leather Purses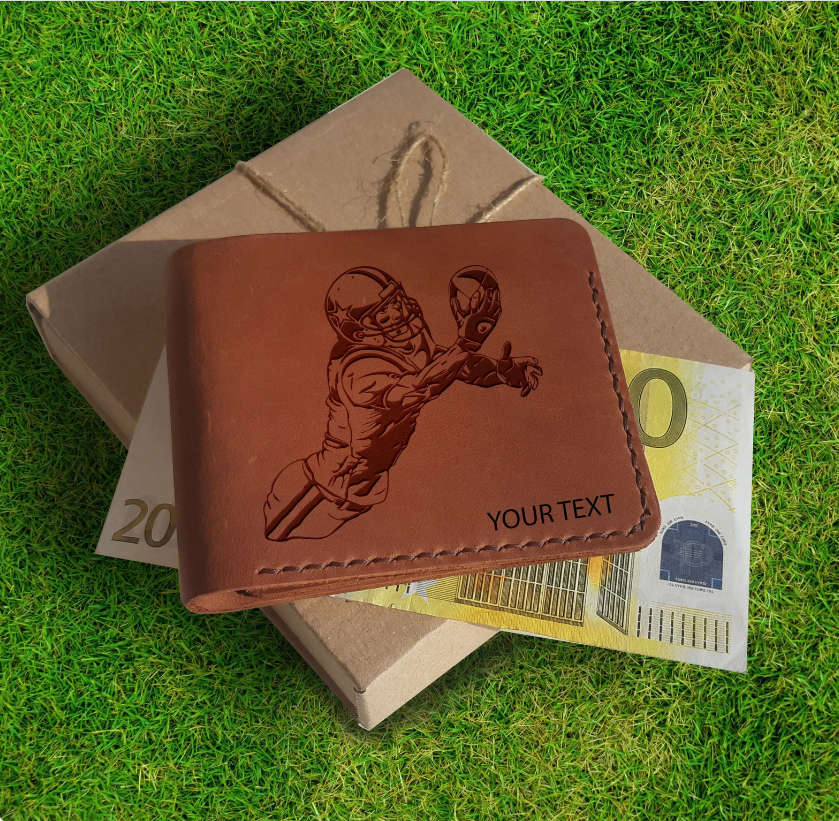 A fun way to make sure everyone knows who you're rooting for is by incorporating your team into your outfit. Instead of just throwing on a replica jersey, though, people can create laser-cut purses emblazoned with their favorite player to celebrate the coming of the Super Bowl. You don't even have to be a football fan—if the person you're dating is excited for game day, you can give engraved items like these to show support for them, even if you don't plan on cheering along yourself. We recommend the Atezr P10 10W laser engraving machine with the engraving settings at 3000 mm per minute and 20% power for this type of project, and we also encourage you to get creative and think of other patterns that might make good purses.
In Conclusion…
There's no wrong way to show team spirit while eagerly waiting for Super Bowl Sunday, but a unique decorating approach is sure to make waves in your neighborhood. From smaller accessories and trinkets to larger-scale wall decorations, an Atezr laser engraving machine is ready to take on any football-themed craft project you can think of.
The Super Bowl is coming up very soon, so now is the perfect time to get started on designing and creating your homemade decorations. Head to the Atezr website for more information on the equipment and materials you'll need to make all those cool ideas in your head a reality. We hope you have an amazing time watching the game!
Comment