Buy Machine Get Free Lightburn
Notice: The promotion of giving away LightBurn software for orders will end on May 1st, 2023. Orders placed after this date will no longer receive the LightBurn software as a gift. Thanks for the great support for Atezr!
In order to compensate for the slow shipping of the first-generation products during the pre-sale period, Atezr has extended the Lightburn gift promotion as a special surprise. Anyone who buys P and V series products from the Atezr website will now have the right to enjoy a free Lightburn license key.
If you own V35 PLUS, How to get the right to use Lightburn?
Step 1: After placing a V35 PLUS order and confirming the receipt.
Step 2: You can choose to comment on the product details page V35 PLUS. Specific comment requirements: three pictures with machines plus some text.
Step 3: After taking a screenshot, you can use the order number and picture to contact customer service@atezr.com to participate in the software giveaway.
Please note that this activity is being offered to make up for some customers who experienced a delay in the pre-sale time Form Atezr Website.
While we would appreciate it if you could leave a review based on your experience at the bottom of the product page, we understand that this is not mandatory.
If you choose not to leave a review, you can still join the Atezr FB group and subscribe to the Atezr Newsletter to receive the G-code of Lightburn. Please be aware that screenshots will be required for verification by our customer service team before the G-code is provided. We want to thank you for your strong support of Atezr products, and we are committed to continuously improving and enhancing the performance and user experience of our products.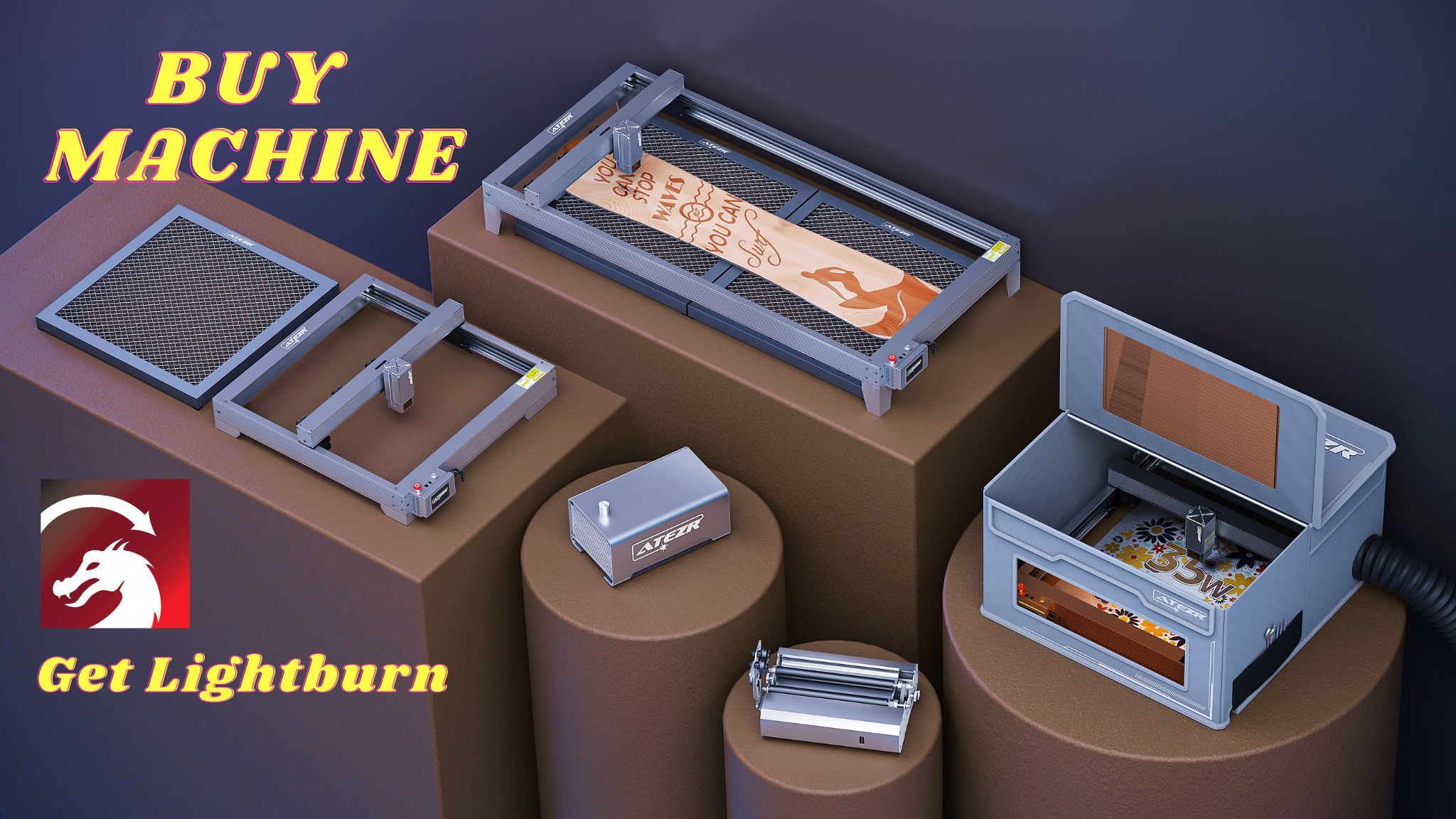 3 Steps Get Lightburn
Sep 1: Purchase machines including P20 PLUS / P10 COMBO / P10 / P5, and generate your own order number.
Sep 2: After the product is successfully ordered and shipped and the receipt is confirmed, join up Atezr FB group and subscribe to Atezr Newsletter.
Sep 3: After completing the above steps, you can use the order number to contact customer service@atezr.com to participate in the software giveaway.
Thank you very much for your great support of Atezr. With your consent, Atezr will periodically email you how to use the software or tips on how to use the engraving machine to give you feedback on your Atezr support. The final interpretation right of this event belongs to Atezr.
About Lightburn
LightBurn is the layout, editing, and control software for your laser cutter. With LightBurn you can:
- Import artwork in a variety of common vector graphic and image formats (including AI, PDF, SVG, DXF, PLT, PNG, JPG, GIF, and BMP)
- Arrange, edit, and even create new vector shapes within the editor, with powerful features like offsetting, boolean operations, welding, and node editing
- Apply settings like power, speed, number of passes, cut order, brightness & contrast, dithering mode, and much more
- Send the result directly to your laser cutter
LightBurn is a native application written for Windows, Mac OS, and Linux.
Notice: Atezr's second-generation machine products, L2 series - L2 12W/24W/36W, are not included in the free Lightburn license key promotion. Please note that the products offered during our flash sale event are not eligible for any LightBurn giveaway promotions